Custom-Made Residential Awnings in Royal Oak, MI
---
Express Your Style and Charm Your Neighbors with a Custom-Made Awning to Match Your Home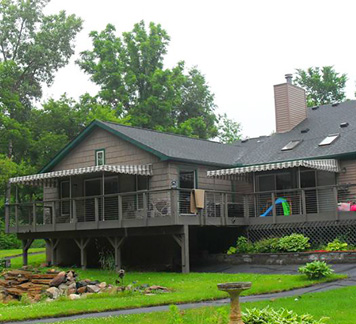 Royal Oak & Birmingham Awning is the destination for premier awning sales and service in southeast Michigan. Featuring a large selection of stationary and retractable awnings, we have the professional, experienced and friendly staff to meet your every need.
We're a small family-owned business, which means every customer receives the individual attention they deserve. We'll work with you to select custom colors and the right fabric for your needs.
Our staff of professionals will help you craft custom-designed:
Window awnings
Patio awnings
Deck awnings
Door awnings
Stationary awnings
Retractable awnings
Bubble awnings
Box style awnings
Drop curtains
From single family homes to condos, our experienced professionals have seen it all and will ensure your satisfaction by handling all of the installation details. Our custom awnings are designed with sturdy materials that will last for years. Need a repair on an existing awning? We are experts at bringing your home's awning back to life!
How Will Your Home Benefit from a Custom Awning?
Charm and Style
A well-designed and professionally-installed awning brings out the charm in a home. An awning over your door, your porch or your deck creates a unique and elegant appearance that invites the whole neighborhood to stop by for a relaxing day in the shade. There's no better way to boost your curb appeal.
Maximize Your Outdoor Space
Don't let summer heat, spring showers or light snowfall keep you inside. An awning will take your deck or patio to the next level. Whether you like to share drinks with friends, cook out for the family or just get some quality time with a good book, your custom awning will let you relax and enjoy your outdoor space all year long.
Save on Energy Bills
A well-placed awning means big savings on your energy bills. An awning shades your windows, which naturally keeps the inside temperature cooler. This prevents your air conditioner from working overtime, reducing your electricity consumption. Since awnings provide natural shade, you'll save even more during particularly hot years.
Protect Your Belongings.
Direct sunlight exposure slowly wears on patio furniture, grills and other outdoor equipment. Even indoor furniture and carpet can be slowly damaged by direct sunlight. An awning shields your belongings from the sun's harmful alpha rays, which prolongs the life of your property.
---
Partner with Us to Craft Your Custom Awning
When we say partner, we mean it. Our family-owned business is successful because of the relationships we build with our customers. We are proud of the homes that bear our awnings, and the homes with awnings that we've repaired. You deserve to be proud of your awning, too.
---
Awning Fabric & Color Resources
Click on the following options to see all available fabrics and colors:
---
Contact Royal Oak & Birmingham Awning today to schedule your free consultation!